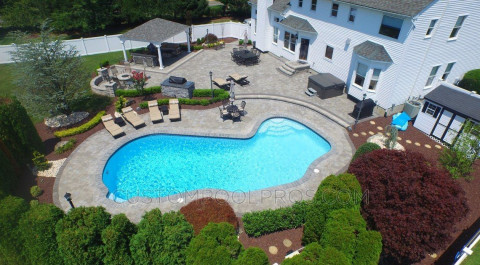 Custom Pool Pros design and create the perfect custom pool environment so you can experience the style and sophistication that a beautiful luxury pool has to offer. Just imagine, a gorgeous and impressive vacation spot just steps from your home. You can transform your backyard into a relaxing haven for you and your friends and family's pleasure. Your new lifestyle awaits!
Custom Pool Pros is committed to building high-quality inground pools in New Jersey. We design and build high-quality outdoor living spaces that have on customer mind. We take pride in managing the entire project in house, without the need to hire sub-contractors. This allows the quality to reflect our brand and business, in order to service a customer at the highest level.
With over a decade of experience in pool building and winner of 3 NESPA awards for best pool designs, we are the top pool builder in New Jersey Area. We are a full service pool company and also provide landscaping and paving services.
We design and build high-quality inground pools that customer want.
Specialties
Construction Management
Pool Building
Pool Construction
Pool Installation
Pool Maintenance Services
Pool Remodeling
SWimming Pool Construction
Swimming Pool Design
Waterfalls (Pool, Pondless, etc)