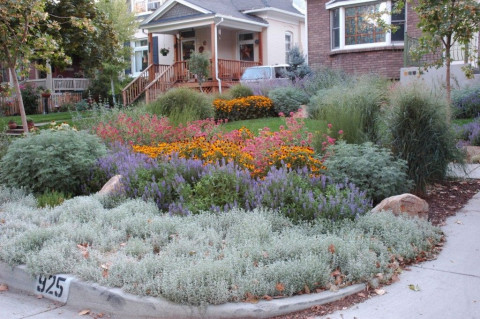 My name is Rick Laughlin, APLD, and I Design in
3D that eliminates your Stress and gives
YOU a sense of Pride and Joy in your ideal, dream
environment.
We listen to your dreams and wishes and write
EVERYTHING down
Low Maintenance & Low Water Landscapes
Food/Vegetable Gardens
Back Yard Fire Pit
Patio/Deck for entertaining
Use of Native Plants
Enhance Curb Appeal
Lighting & Audio landscape
Vertical & Inside Landscaping
Pergolas, Arbors & Fences
I am not the cheapest but I do great work and my contractors are top notch.
My minimum for design is $2,450.00 and UP. I charge $150.00 for a consultation, waived if you sign a design fee.
My list of Certified & Licensed Contractors
Glen Christiansen-Landscape & Irrigation Contractor
Greg Strong-Landscape & Irrigation Contractor
Glen Trople-Landscape & Irrigation Contractor
Keith & Ty Rosser-Lighting
I also have Certified Arborists, Survey and Maintenance People
Contact Rick for Contact Information TEXT
Been in business for 25 years and am very experienced with water wise plants and the latest in all types of design. My services also include Petscaping and Sustainability.
I have traveled extensively across the United States, Canada, England, France, Italy, Ireland, Costa Rica and Mexico.
My construction management fee is 10% of the total job cost. I will make timely site visits to insure every thing is going as I planned.
Specialties
Anything You Can Dream Of
APLD Certified And QUEL Certified
Arbors
Architectural Fence Building And Installation
Artifical Turf
Artificial Grass Installation
Artistic Planting Design
Backyard Living Areas- Affordable Cost
Block Walls
Blooming Perennials
Brick Paver Patios & Walkways
Build
Certified APLD
Children's Gardens
Collaborative Design
Commercial & Retail Landscape Design
Commercial Landscaping
Computer Modeling
Construction
Construction Management
Consultation
Consultations
Container Gardening
Container Gardens
Coreten Steel
Custom Stonework Design
Deck Design
Design
Design With A Spirit Of Place.
Drip Irrigation
Driveways
Ecologically Sensitive Design
Edible Landscapes
Edible Landscaping
Edibles
Entry Design
Environmental Consulting
Erosion Control
Event Landscaping
Fences
Fencing
Fireplaces & Firepits
Fountains
Garden Coaching
Garden Design
Garden Maintenance
Garden Ponds
Gardening And Irrigation
Gardens
Gazebos
Grading
Graphic Design
Gravel
Green & Sustainable Design
Hardscape Design
Hardscaping
Healing Gardens
Installation And Maintenance
Interesting Plant Materials And Design Solutions
Invasive Plant Management
Irrigation
Irrigation & Drainage Solutions
Koi Ponds
lakeshore Design
Land Clearing
Land Planning
Landscape Architectural Design
Landscape Architecture
Landscape Consultation
Landscape Design
Landscape Design And Garden Planting Plans
Landscape Designs
Landscape Lighting
Landscape Maintenance
Landscape Master Plans
Landscaper
Landscapes
Landscaping
Landscaping Company
Lawn Care
Lawn Company
Lawn Fertilization
Lawn Maintenance
Lawn Mowing
Lawn Service
Lawn Treatment Services
Live Fences And Screenings
low Maintenance
Low Water Plants
Low Water Use Landscapes
Low Water Yard
Low-water Gardens
Masonry
Master Planning
Mowing
Native
Natural Playground Design
Natural Stone Masonry
New Construction
Nursery
Organic
Organic Lawn Care
Organic Lawn Fertilization
Organic Pest Control
Ornamental & Native Plant Specialist
Outdoor
Outdoor Dining Rooms
Outdoor Furnishings
Outdoor Gas Fire Pit
Outdoor Kitchens
Outdoor Lighting
Outdoor Living
Outdoor Living Spaces
Outdoor Spaces
Outdoor Structures
Over Head Lighting
Pagodas
Patios
Pavers
Paving
Perennial Gardens
Pergolas Etc...
Permaculture
Permeable Paving
Pest Control
Petscaping
Planning
Planting Design
Plantings
Pond Aeration
Pond Design
Pools
Porches
Portable Gas Fire Pit
Pruning
Putting Greens
Rain Garden Design
Rainwater Harvesting
Raised Garden Beds
Renovations
Residential Architecture
Residential Landscape Design
Resort Design
Retaining Walls
Rock Gardens
Rooftop Gardens & Green Roofs
Sheds
Shrubs
Site Design
Snow Plowing
Snow Removal
Sod
Softscapes
Spascapes
Stone Veneer
Storm Water Management
Stump Grinding
Sustainability
Swimming Pool Design
Tree Removal
Tree Trimming
Trees
Trellises
Urban Design
Urban Planning
Vegetable Gardens
Walkways
Water Features
Waterfalls (Pool, Pondless, etc)
Watering & Irrigation
Waterwise Landscape Design
Weed Control
Xeriscape Master
Xeriscaping Expertise