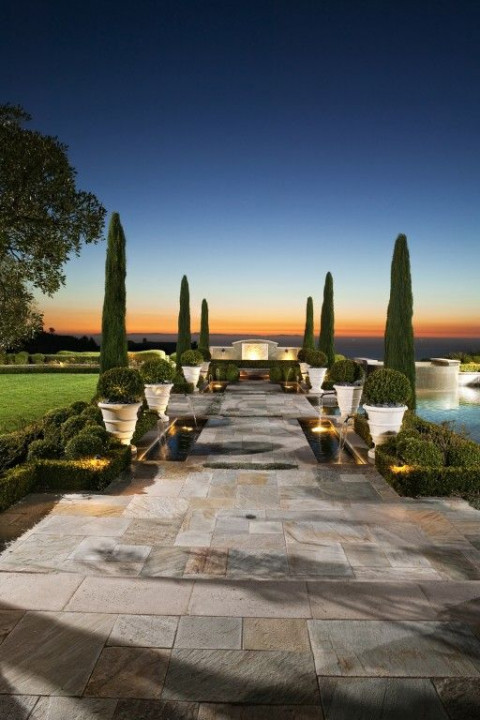 At AMS Landscape Design Studios, Inc., we specialize in creating Exquisite Outdoor Environments for homeowners with discriminating taste and who appreciate creative and unique designs that are crafted as their own Personal Resort, which blends harmoniously with their interior living spaces.
All great designs can only be created by carefully listening, with empathy, to my client's needs and desires. Even if they are not able to articulate their thoughts in a design orientated manner, the Client intimately knows what is important to them and they all have desires to how they would like to enjoy their new outdoor environment, but this can only be achieved checking your ego at the door and putting yourself in their shoes. Therefore, AMS Landscape Design Studios cannot be defined by a single landscape style. My job is to understand how my clients want to live and create a partnership with them. This partnership, and excellent communication, ensures that the design and all related components and spaces are customized for the client down to the last square inch. By entering into a "design partnership" with his clients, Drew elicits their ideas and dreams for indoor and outdoor living. The more I understand how my clients want to live, as well as the materials and style of their home, the more I can bring that same expression into their landscape.
At AMS we create outdoor environments that express, in every detail, the homeowner's visual sensibilities, culture, taste and lifestyle. Every nuance – from the shadow cast by a tree to the sound of water moving through a stone stream bed – is considered. Every visual and atmospheric detail is critical.. My design is not truly complete until the last stone, plant, or garden feature is in place and my client is happy." Drew Sivgals
"The residential landscape is much more than decorative. It is an extension of the homeowner's taste and lifestyle, the residence's architecture and interior design, and the many roles of outdoor living – entertaining, relaxation, contemplation and recreation. Landscape is an integral part of the home – it extends the sight lines and boundaries of rooms and unleashes the limits of imagination." Drew Sivgals, AMS Landscape Design Studio
To each landscape concept, Drew Sivgals and his design team bring extraordinary vision, creativity and experience. After he earned his Bachelor of Landscape Architecture (BLA) degree from Cal Poly San Luis Obispo, Drew has traveled and studied extensively in Europe and Australia, continually expanding his knowledge of both historic and contemporary design. He spent a year in Australia completing courses at the University of Canberra and graduate level courses at the University of Melbourne. Drew was also awarded an internship with Walt Disney Imagineering where he worked on a variety of theme park projects, including Tokyo Disney Seas and Disney's California Adventure. Additionally, he has worked on large commercial and custom home developments and community master planning projects such as Crystal Cove, Turtle Ridge and Playa Vista.
As a full member of the American Society of Landscape Architects, as well as being involved with the Residential Landscape Design Professional Interest Network, Drew Sivgals shall ensure that every project and the corresponding design meet or exceed its strict standards and by laws.
Drew Sivgals has received honors from both the American Society of Landscape Architects (Award of Honor) and the Australian Institute of Landscape Architects (Award of Merit).
Please call Drew at AMS Landscape Design Studios for a complimentary initial consultation to discuss your site and landscape design hope and goals
website: www.amslandscapedesign.com
Specialties
3-D Designs
Anything You Can Dream Of
Artistic Planting Design
Arts & Crafts Period Designs
Backyard Gardens
Backyard Living Areas- Affordable Cost
Brick Work
Cabana & Pool House Designs
Collaborative Design
Conceptual Landscape Design Plans
Construction Details
Consulting
Container Gardens
Contractor Selection
Custom Landscape Design
Custom Stonework Design
Design With A Spirit Of Place.
Disappearing "pondless" Waterscapes
Ecologically Sensitive Design
Erosion Control
Exterior Condition Assessment
Fireplaces & Firepits
Full Color Illustrative Plans
Gardening Design
Gravel
Hot Tubs
Interesting Plant Materials And Design Solutions
Irrigation & Drainage Solutions
lakeshore Design
Landscape Cad Design And Installation - Softscape And Har
Landscape Design And Garden Planting Plans
Landscapes
Lighting Plans
Los Angeles
Mediterranean Climate Appropriate Designs
Member Of The American Society Of Landscape Architects
Orange Riverside And San Diego Counties
Ornamental & Native Plant Specialist
Outdoor Furnishings
Outdoor Living
Outdoor Structure Designs
Perennial Gardens
Pergolas Etc...
Plant
Planting Plans
Pool And Spa Design And Installation
Porches
Rock Gardens
Security Scaping
Site Plans
Spascapes
Specilized Designs For Site A Customer
Swimming Pool Design
Visualizations
Walkways
Waterfalls (Pool, Pondless, etc)
Waterwise Landscape Design
Winery Design