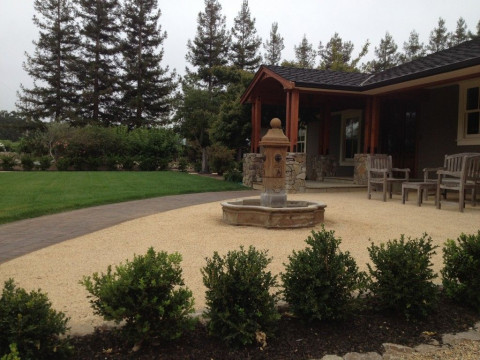 Landscape Garden Design Services
Tired of your outdoor spaces the way they are? Ready for an outdoor renovation? This is our area of EXPERTISE! Whether you want more curb appeal, a bountiful garden, or a relaxing place to entertain guests, Inside and Out Landscape Design can help transform your property into the garden of your dreams - without breaking the bank.
The best time and money spent on any project is the creation of a comprehensive design. Our talented landscape designers will work with you to capture your vision for the garden before the plans are shown to contractors, ensuring that your garden is an expression of you and not that of your contractor! We will work with your budget to create a plan that will prove especially useful to avoid costly mistakes, headaches, and delays during the installation process. If desired, we can also help you find a reliable, skilled and licensed contractor.
We have experience working with all garden styles, and our design approach leans toward using simple lines and natural materials to create the 'hardscape' and a thoughtful, low maintenance, layering of plant material to help soften the space. We design all aspects of your garden including: Patios, Walkways, Arbors, Outdoor Kitchens, Fire Pits, Fire Places, Seat Walls, Retaining Walls, Decks, Koi Ponds, Water Features, Fountains, Fencing, Lighting and Planting Plans for any size garden.
Design costs are contingent upon the size and scope of the project – again, the best money spent and well worth the investment. Designs are to scale and computer generated. The process is thorough and entertaining - we like to make this experience educational, fun and enjoyable!
For the most part we work in Napa and Sonoma Valley, yet will travel for the right project.
Please visit our website for additional information and beautiful photos of completed projects. Be sure to leave us a note on how to reach you.
www.InsideOutLandscapeDesign.com
Specialties
Arbors
Brick Paver Patios & Walkways
Commercial & Retail Landscape Design
Custom Stonework Design
Deck Design
Driveways
Entry Design
Erosion Control
Fireplaces & Firepits
Garden Design
Garden Ponds
Gazebos
Grading
Green & Sustainable Design
Hardscape Design
Irrigation & Drainage Solutions
Koi Ponds
Land Planning
Landscape Architectural Design
Master Planning
Natural Playground Design
Natural Stone Masonry
Organic Pest Control
Ornamental & Native Plant Specialist
Outdoor Kitchens
Outdoor Lighting
Pagodas
Patios
Paving
Porches
Putting Greens
Rain Garden Design
Residential Architecture
Residential Landscape Design
Resort Design
Retaining Walls
Rooftop Gardens & Green Roofs
Sheds
Shrubs
Sod
Softscapes
Spascapes
Stone Veneer
Storm Water Management
Trees
Trellises
Walkways
Water Features
Waterfalls (Pool, Pondless, etc)
Waterwise Landscape Design
Weed Control
Xeriscaping Expertise