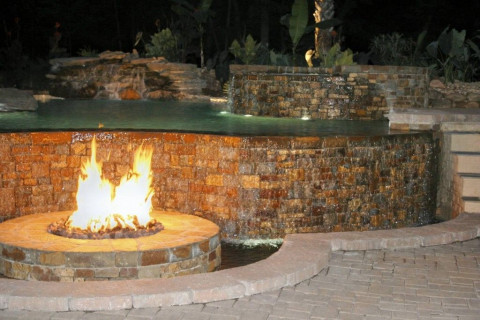 http://www.FrankBowman.com - Frank Bowman Designs (Raleigh, Cary, Chapel Hill, Durham, NC and beyond) prides itself on providing our clients with individualized service and attention to detail that is unsurpassed in the swimming pool or landscape industry. With a strong team of experienced and qualified professionals, including architects, engineers and designers, Frank Bowman Designs has a track record of taking the simplest to the most complex project from dream to reality.
Frank meets personally with each client to gather information and survey the site. In creating a plan for the project, Frank will consider the layout of the lot, property lines, elevation, scope, and contour as well as the shape of home and existing hardscape features. Frank will then draw illustrations of the swimming pool, hardscape and landscape plan, providing the client with visual details while at the same time ensuring accuracy and efficiency during project installation.
Frank Bowman Designs, an eco-conscious company, has built its solid reputation by providing unique and creative waterscape swimming pool, hardscape & landscape features while staying within the client's budget and timeframe. With the ability to provide unique and creative solutions, Frank Bowman Designs has installed warm, inviting and appealing outdoor spaces for hundreds of satisfied clients. Whether you're in search of a relaxing or dynamic new infinity pool, natural stone & paver patio, new landscaping, outdoor kitchen & fireplace or just an entirely new look for your property-depend on us to beautify and enhance the quality of your surroundings.
Specialties
Anything You Can Dream Of
Arbors
Artistic Planting Design
Brick Paver Patios & Walkways
Brick Work
Certified Professional Horticulturist
Collaborative Design
Commerical 4 Season Installations
Construction
Construction Management
Consultation
Consultations
Custom Concrete Swimming Pools & Spas
Custom Stonework Design
Deck Design
Design
Driveways
Entry Design
Environmental Consulting
Erosion Control
Fences
Fencing
Fireplaces & Firepits
Garden Design
Garden Ponds
Gazebos
Grading
Green & Sustainable Design
Hardscape Design
Infinity Swimming Pools
Installation And Maintenance
Irrigation & Drainage Solutions
Koi Ponds
Land Clearing
Landscape Architectural Design
Landscape Consultation
Landscape Design
Landscaping
Licensed Residential & Commercial General Contractor
Natural Playground Design
Natural Stone Masonry
Ornamental & Native Plant Specialist
Outdoor Kitchens
Outdoor Lighting
Pagodas
Patios
Paving
Porches
Putting Greens
Rain Garden Design
Renovations
Residential Architecture
Residential Landscape Design
Resort Design
Retaining Walls
Rock Gardens
Rooftop Gardens & Green Roofs
Sheds
Shrubs
Site Design
Sod
Softscapes
Spascapes
Stone Veneer
Storm Water Management
Swimming Pool Design
Tree Service
Trees
Trellises
Unique And Unusual Projects
Walkways
Water Features
Waterfalls (Pool, Pondless, etc)
Waterwise Landscape Design