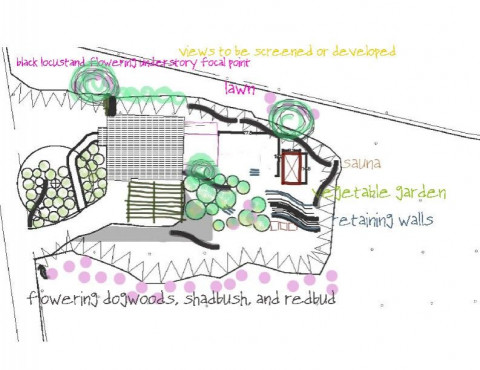 Hi,
Thanks for your interest in Gardens of Delight.
We have designed, installed, consulted, and cared for over 100 landscapes here since 1999. We are known for exceptionally responsive, co-creative, and ecological designs for homes and public spaces. Places that are unique, functional, beautiful, tasty, and easy to maintain.
DESIGNS: From big ideas to planting plans and construction details. Designs start at $500 for specific areas and can be delivered usually within a week or two. Master plans usually start at $2000 and can be received within five weeks. Collaborative process. Ask to receive a portfolio pdf by email.
CONSULTS: Not sure you need drawings, just advice? Try a $100 design consultation to achieve a quick sense of priorities, or a package consultation for $600 (10 sessions).
MAINTENANCE: distinctive, organic garden care with affordable rates. Ask for a free estimate.
WORKSHOPS: Do you or your group want to learn about a gardening or land use topic? Ask me about an engaging, educational, and customized talk or class.
Combining our expertise with your dreams, creativity and values, we collaborate with you or your organization to turn landscape problems into positive opportunities. The evolving result is a unique expression of your place in the world.
Please request a list of references or a portfolio.
We will return all inquiries within 24 hours.
Sincerely,
Julie Meyer, MLA
Specialties
Arbors
Brick Paver Patios & Walkways
Commercial & Retail Landscape Design
Construction Management
Custom Stonework Design
Deck Design
Driveways
Entry Design
Environmental Consulting
Erosion Control
Fireplaces & Firepits
Garden Ponds
Gazebos
Grading
Green & Sustainable Design
Hardscape Design
Installation And Maintenance
Invasive Plant Management
Irrigation & Drainage Solutions
Landscape Architectural Design
Natural Playground Design
Natural Stone Masonry
Ornamental & Native Plant Specialist
Outdoor Kitchens
Outdoor Lighting
Patios
Paving
Porches
Rain Garden Design
Residential Landscape Design
Retaining Walls
Rooftop Gardens & Green Roofs
Shrubs
Softscapes
Storm Water Management
Trees
Trellises
Walkways
Water Features
Waterwise Landscape Design
Weed Control
Xeriscaping Expertise